Our Values
Worship
Connect
Serving Others
Connect with Us
Our Values

Worship

The students at Friendship Baptist Church are passionate about following God and discovering more about Him. They are excited to worship God and that excitement comes out in their weekly meetings. At Catalyst, the praise band leads worship as students focus on God and worship Him.
Connect
Friendship Students are also a group that is connected with each other. They are friends who support each other, encourage each other, and challenge each other.
Serve
Friendship Students love to serve others. Students are challenged to be the hands and feet of Jesus on their campus and throughout our community.
Fun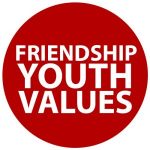 Being a Christian isn't a boring thing (even though some people try to make it that way). Seeking God is a priority at Friendship, but we have a lot of fun along the way. You may not get messy every week that you come to church, but it always is a possibility.
Worship
Connect
Serving Others
Connect with Us