Sunday Mornings
Sunday Morning Bible Study & Kid's Worship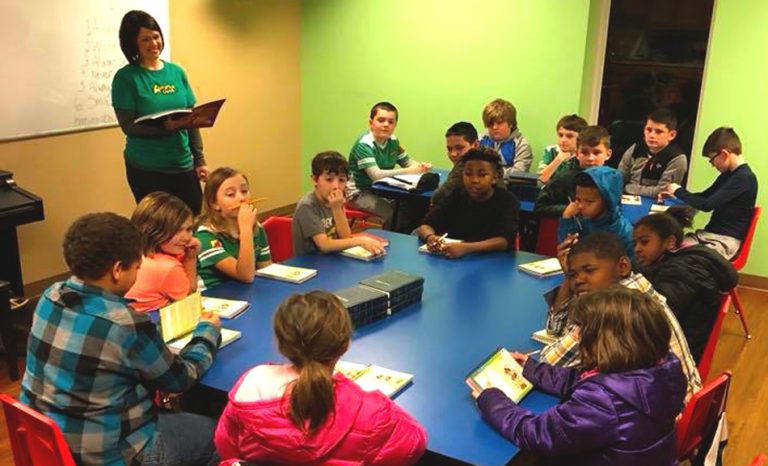 Each Sunday morning, Friendship Baptist Church partners with families to impart the Christian faith to the next generation. The Scriptures teach in Deuteronomy 6:6-7, "And these words which I command you today shall be in your heart. You shall teach them diligently to your children…" Our goal is to offer age-graded Bible study with an emphasis on life application.
Bible study begins at 9:00 A.M. Children ages 2 through 5th grade meet with their peers and learn from God's Word. In Bible study, students learn about great Bible heroes, history, and God's wonderful plan of salvation. Time is also provided for Bible verses to be memorized and friendships to begin.
Kid's Worship is provided during the 10:15 AM worship service and is designed for children ages 4 – 3rd grade. Children worship with their families in the sanctuary during the first segment of the service and then are dismissed to Kid's Worship. Through the Kid's Worship ministry, children participate in an activity based curriculum complete with active worship songs, Bible stories, and various projects designed to reinforce the Biblical truths presented.
For more information, please contact the church office at: 270-534-1900.
AWANA
AWANA ministry is offered each Sunday evening from 6:00 – 7:00 P.M. August through May. Children ages two through students in fifth grade meet in the fellowship hall.
For nearly sixty years, AWANA has been an organization committed to helping churches and parents work together to develop spiritually strong children who faithfully follow Jesus Christ. Our programs offer a proven approach for evangelizing and teaching children in the church and community. The unusual name comes from 2 Timothy 2:15: Approved Workmen Are Not Ashamed. Currently, churches from one hundred different denominations utilize AWANA curriculum to effectively communicate God's Word to children.
At Friendship Baptist Church, children are divided into four groups:
| | |
| --- | --- |
| Puggles | (2-3 Year Olds) |
| Cubbies | (Preschoolers) |
| Sparks | (Kindergarten – Grade 2) |
| T&T | (Grade 3 – Grade 5) |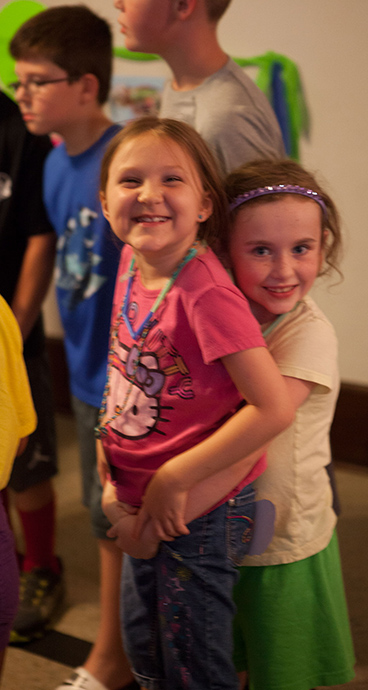 PUGGLES: Puggles recognizes the learning ability of 2- and 3-year olds by introducing biblical precepts at church and equipping parents to teach them at home. Children are welcomed each week with play time, songs and simple crafts and activities. Leaders present age-appropriate lessons using large, colorful teaching cards, finger puppet plays and more. Lessons teach and reinforce four basic biblical precepts: 1) God made everything; 2) God saw that it was good; 3) God is love; and 4) Give thanks. Special take-home cards that correspond to each week's lesson help parents nurture their child's faith at home. Participating in Puggles will give your child a head start on the path to loving and following God for life.
CUBBIES: The material provided for Cubbies is based on two premises: 1) Young children can and should receive spiritual training; and 2) Home is the primary place for spiritual training. The Cubbies manual is a wonderful tool for parents' use with their preschooler during the week. As the child comes to weekly meetings at church, they will experience "fun with a purpose" as leaders teach them about Jesus. Through the use of games, puppets, crafts, and awards, preschoolers will enjoy this lively weekly meeting as they grow in the knowledge of Christ.
SPARKS: Kindergarten through second grade children will experience a sequential walk through Scripture that includes a clear and consistent presentation of the gospel message. Upon completion of three years as a Spark, children will learn and review over sixty-five Bible verses, establishing a strong Biblical basis for their faith. Weekly meetings consist of Bible based lessons including the message of salvation, worship, awards, and age appropriate games.
T&T (TRUTH & TRAINING): Third through fifth grade girls and boys will experience training in the truth of God's word. Four handbooks teach children that life's true adventure is a personal relationship with Jesus. Each week, children study their Bibles, memorize verses, achieve awards, play team-oriented games, and participate in mission projects. Students who complete this curriculum will have learned and reviewed over 310 Bible verses! Moreover, they will begin to ask the question, "How does God want me to live my life?"
For more information, please use the contact form or contact the church office at (270) 534-1900.
Nursery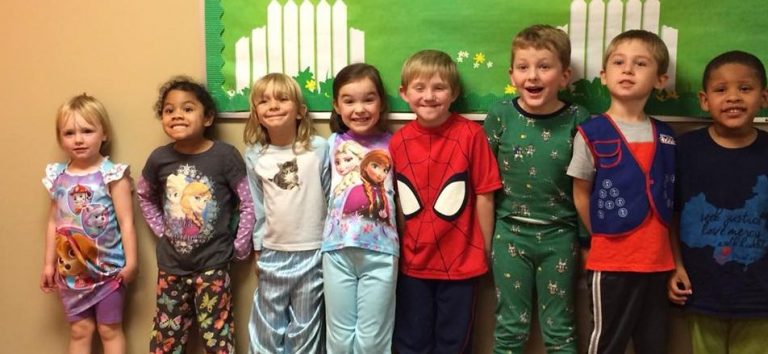 In Matthew 19:14, Jesus said: "Let the little children come to Me, and do not forbid them; for of such is the kingdom of heaven." Our nurseries are staffed by individuals eager to interact with your child in a loving and safe environment. Nursery is provided for children from birth to three years old and available for all Sunday and Wednesday services.
Choir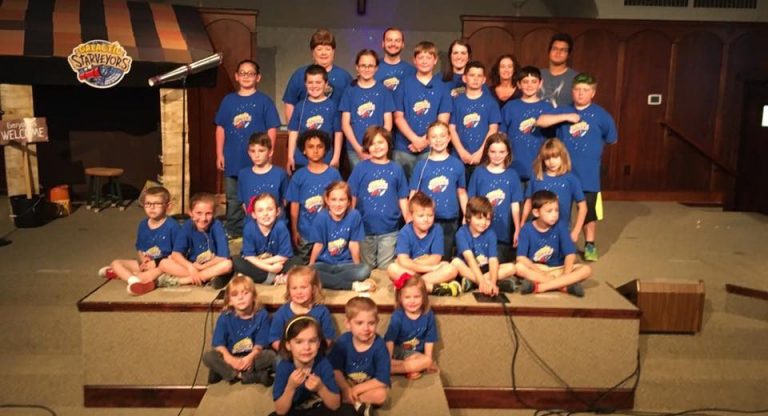 The psalmist declared: "Sing praises to God, sing praises! Sing praises to our King, sing praises!" Each Wednesday evening, from 6:30-7:30, children in kindergarten through grade 5 meet in Room C205 for Children's Choir while younger children, ages 3 through pre-kindergarten, meet in Room C202 for Pre-school Choir. Music provides a great medium to teach children the truths of God's Word. Our children's choir includes a weekly Bible lesson, as well as introducing music that is presented by the children occasionally during Sunday worship. Each Christmas, the children participate in a musical performed for the church and community.
Summer Camp
This summer join Friendship Baptist's 3rd through 5th graders at Centri-kid 2018. Campers will explore God's design for us and who we are in Christ. We will learn how we are His workmanship and how we are created in His image. God's blueprint shows us that we are truly loved, completely forgiven, and prepared for a purpose to share the Gospel. Our key verse for the summer will be Ephesians 2:10, which says: "For we are His workmanship, created in Christ Jesus for good works, which God prepared ahead of time for us to do." Each day, students will focus on how we are God's design and how we can learn more about who we are in Jesus. Centri-kid Camp takes place July 2-6, 2018, at Shocco Springs in Taladega, Alabama. All children in 3rd through 5th grade are invited to experience this five day, four night camp where they will learn more about Jesus Christ! Staffed by seminary and college students, children will participate in Bible study, worship, track times, and games. Total cost of camp is $375. Sign up for Centri-kid today!

Vacation Bible School
Vacation Bible School is July 15-19, 2018. Our evening Vacation Bible School is open to preschoolers through children who are entering Grade 5. Children will study the Bible, learn amazing new worship songs, play games, and enjoy snacks, all centered around an engaging and adventurous theme. This is a wonderful opportunity to come together with friends and family to learn more about God and His wonderful plan for our lives.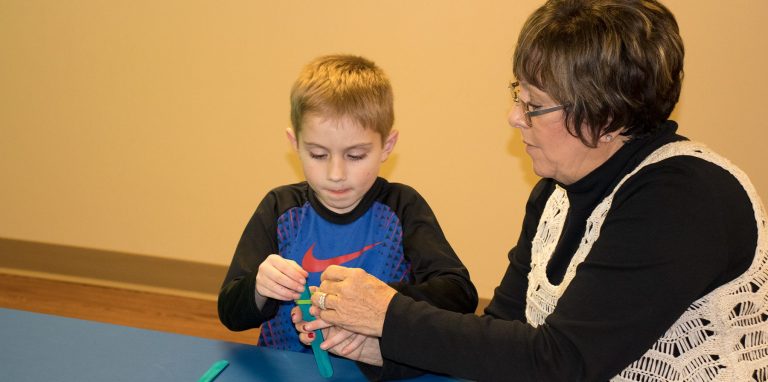 VBS 2018 invites kids to grab their megaphones, lace up their cleats, and tune up their instruments. As they fill up the offensive line, sideline, and drumline, your players, cheerleaders, and band members will realize God has given them His ultimate playbook. He wants them to join His team, train hard, celebrate salvation, and encourage one another. Get in the spirit today with Game On! Everything that happens during VBS grows out of the biblical content. Kids can connect to God's Word in a creative setting where the Gospel message can speak into their hearts. Our goal with Vacation Bible School is to clearly present the Gospel of Jesus Christ while having as much fun as humanly possible.
Register for Vacation Bible School!