AWANA ministry is offered each Sunday evening from 6:00 – 7:00 P.M. August through May. Children ages two through students in fifth grade meet in the fellowship hall.
For nearly sixty years, AWANA has been an organization committed to helping churches and parents work together to develop spiritually strong children who faithfully follow Jesus Christ. Our programs offer a proven approach for evangelizing and teaching children in the church and community. The unusual name comes from 2 Timothy 2:15: Approved Workmen Are Not Ashamed. Currently, churches from one hundred different denominations utilize AWANA curriculum to effectively communicate God's Word to children.
At Friendship Baptist Church, children are divided into four groups:
| | |
| --- | --- |
| Puggles | 2-3 Year Olds |
| Cubbies | Preschoolers |
| Sparks | Kindergarten – Grade 2 |
| T&T | Grade 3 – Grade 5 |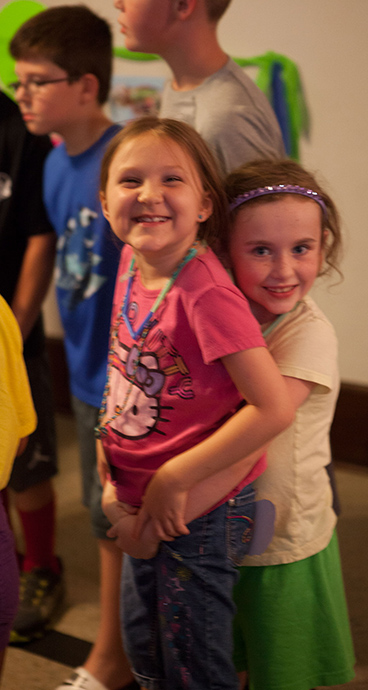 PUGGLES: Puggles recognizes the learning ability of 2- and 3-year olds by introducing biblical precepts at church and equipping parents to teach them at home. Children are welcomed each week with play time, songs and simple crafts and activities. Leaders present age-appropriate lessons using large, colorful teaching cards, finger puppet plays and more. Lessons teach and reinforce four basic biblical precepts: 1) God made everything; 2) God saw that it was good; 3) God is love; and 4) Give thanks. Special take-home cards that correspond to each week's lesson help parents nurture their child's faith at home. Participating in Puggles will give your child a head start on the path to loving and following God for life.
CUBBIES: The material provided for Cubbies is based on two premises: 1) Young children can and should receive spiritual training; and 2) Home is the primary place for spiritual training. The Cubbies manual is a wonderful tool for parents' use with their preschooler during the week. As the child comes to weekly meetings at church, they will experience "fun with a purpose" as leaders teach them about Jesus. Through the use of games, puppets, crafts, and awards, preschoolers will enjoy this lively weekly meeting as they grow in the knowledge of Christ.
SPARKS: Kindergarten through second grade children will experience a sequential walk through Scripture that includes a clear and consistent presentation of the gospel message. Upon completion of three years as a Spark, children will learn and review over sixty-five Bible verses, establishing a strong Biblical basis for their faith. Weekly meetings consist of Bible based lessons including the message of salvation, worship, awards, and age appropriate games.
T&T (TRUTH & TRAINING): Third through fifth grade girls and boys will experience training in the truth of God's word. Four handbooks teach children that life's true adventure is a personal relationship with Jesus. Each week, children study their Bibles, memorize verses, achieve awards, play team-oriented games, and participate in mission projects. Students who complete this curriculum will have learned and reviewed over 310 Bible verses! Moreover, they will begin to ask the question, "How does God want me to live my life?"
For more information, please use the contact form or contact the church office at (270) 534-1900.